Sesame (also known as benne) is a flowering plant in the Sesamum genus. Cultivated in many tropical regions throughout the world for its edible seeds.
Sesame has one of the highest oil contents of all seeds and is an ancient oilseed crop having been recorded over 3000 years ago.
Providing a nutty flavour, it is a common ingredient in Asian and middle-eastern food. Sesame seeds can be purchased with the seed coat removed (decorticated) and are used to top savoury and sweet baked goods.
Sesame (seeds and oil) can be a serious allergen to some, with a wide variation of the numbers affected from country to country. In the United Kingdom, reactions were found to affect around 0.04% of adults. however, variations from 0.5% in Switzerland to 8.5% in Australia have also been recorded. Sesame allergy is often high in people who already show symptoms of allergy to other foods items.
As little as 100 mg of sesame seed or flour and 3ml of oil has been recorded as triggering an allergic reaction. The onset of symptoms can occur up to 90 minutes after ingestion.
Many processed foods contain sesame derivatives in their ingredients and allergy sufferers should also be careful with absorbent risks in medical applications and cosmetics.
A cross-reactivity often exists between sesame, peanut, rye, kiwifruit, poppy seed, and various tree nut allergens.
Symptoms of sesame intolerance can include:
  Rash or hives
  Abdominal cramps
  Nausea or vomiting
  Anaphylaxis
  Diarrhea
  Narrowing of the throat
  Swelling of the face or lips
Sufferers of sesame allergy should avoid:
  Sesame seeds
  Tahini
  Sesame oil
Sesame Intolerance/Sensitivity
Sesame intolerance or sesame sensitivity is where a person may present different digestive symptoms and severity after the consumption or contact with related products. Usually, these are less severe than a sesame allergy, but this condition can still be uncomfortable and embarrassing for the person.
  Tiredness
  Bloating
  Diarrhea
  Gas
  Nausea
Sesames provide a relatively high level of calories (573 calories per 100g) and are composed of 5% water, 23% carbohydrates (including 12% fibre), 50% fat, and 18% protein. The seeds are rich in B vitamins, iron, magnesium, calcium, phosphorus and zinc. Sesame oil is also a good source of protein.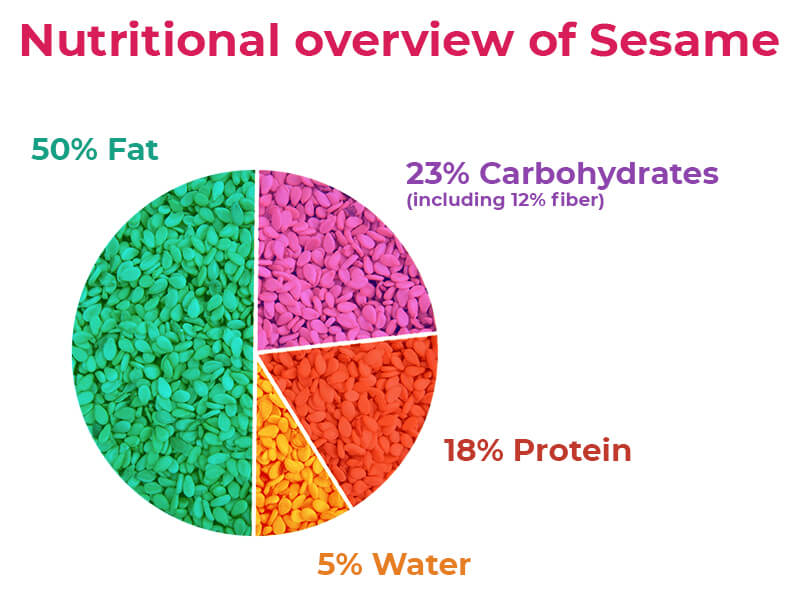 Replacing key nutrients when eliminating sesame
It is important to use alternative items in your diet when undertaking either a short or long term elimination diet to maintain nutrient balance.
Below are good examples or nutritional alternatives when eliminating sesame:
Brewer's yeast, oats, buckwheat, brown rice, rye, whole wheat, mushrooms, soybean flour and soybeans, split peas, sunflower seeds, lentils, chickpeas, broccoli, peppers
Watercress, kale, broccoli, pak choi, tofu, sugar snap peas, almonds
Rye, oats, pumpkin seeds, sunflower seeds, chicken liver, oysters, mussels, clams, cashews, pine nuts, hazelnuts, peanuts, almonds, beef, lamb, lentils, white beans, soybeans, kidney beans, chickpeas, lima beans, spinach, Swiss chard, kale, dark chocolate
Rye, oats, brown rice, barley, quinoa, mussels, lima beans, chickpeas, aduki beans, lentils, pumpkin seeds, sunflower seeds, pineapple, spinach, kale, tofu, soybeans, sweet potato, blueberries, raspberries, strawberries
Brown rice, oats, rye, whole wheat, quinoa, poultry, pork, liver, sardines, scallops, salmon, mackerel, crab, sunflower seeds, pumpkin seeds, pine nuts, almonds, pistachios, cashews
Rye, spinach, beef, lamb, pumpkin seeds, sunflower seeds, cashew nuts, cocoa powder, pork, chicken, chickpeas, mushrooms
Intolerance & sensitivity tests
Sensitivity and Intolerance tests from your home-to-lab. Simply send us a hair sample and we do the rest. Available in individual, couples or family test to save you more! Discover which test is for you?
Allergy tests
Raise IgE antibody analysis using blood-spot technology. Which allergy test is for you?
Pet test
Understand possible food items causing your pet's symptoms.